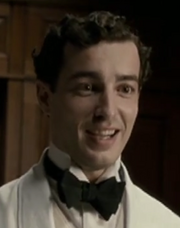 Paolo Sandrini is a fictional character of the
2012 Miniseries Titanic
, and the brother of
Mario Sandrini
.
Episode 1
Edit
The Sandrini bro's board the Titanic at Southampton, and they immediately find a beautiful stewardess, who tells them where to go. Paolo keeps staring at her, and Mario has to pull him with.
Paolo serves the Captain's table that night, and Smith asks him his name and how many Italian servants there are on board. Paolo answers "Just me", which seems to surprise Smith. Paolo heads over to Georgiana Grex and Harry Widener, and flirtingly eye-blinks to Georgiana.
Later, Mario shows Paolo to the firemen's dormitories. Once there, he is immediately insultd by Mario's boss, leading fireman Billy Blake. Paolo tries to fight back, but Mario prevents that. The other firemen leave in laughter.
Behind the scenes
Edit
He was portrayed by Glen Blackhall.